Oct 19th Panther Prayer with Sister Mary Lawrence, O.P.
Our students and alumni continue to make a positive difference in the school and throughout our community and beyond! In today's Panther Prayer and Reflection, Sister Mary Lawrence reflects on how our current Panther students are making a positive difference in the school.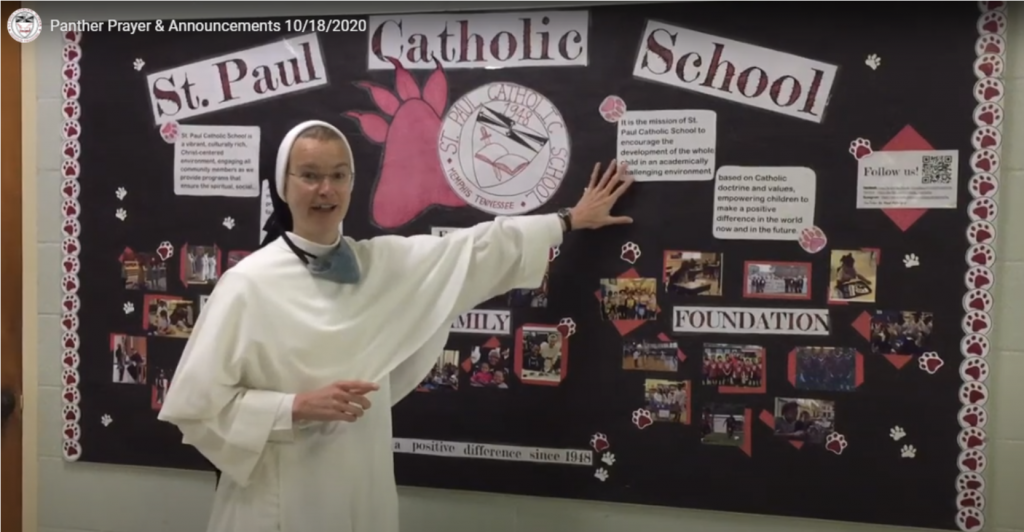 There is no doubt that the school experience is different this year as we navigate the academic year while in the midst of the COVID-19 pandemic. Our students and parents have shown an attitude of appreciation and commitment to keeping everyone safe while pursuing the strong academic effort that St. Paul students have always given.

This weekend, on Saturday, Oct. 24th, and on Sunday, Oct. 25th, Sister Mary Lawrence would like to invite you to attend Mass at St. Paul Catholic Church. This weekend, Sister will offer an update on the school and our appreciation to our parish community, our alumni, and our entire St. Paul family.

Mass Schedule for this weekend:
Saturday — 4:00 PM (Sunday Vigil)
Sunday — 7:00 AM, 10:00 AM

We hope you'll join us!

In Christ's Love,

Sister Mary Lawrence, O.P.
Principal